Lau is a language of northeastern Malaita Island, spoken by about 20,000 people in the Anglican Church of Melanesia's Diocese of Malaita, as well as throughout the Solomon Islands in Malaitan communities. The first major Anglican missionary work among Lau speakers was led by Arthur Innes Hopkins (1869-1943), whose liturgical and biblical translations preceded this version. The first major linguistic study of Lau was Walter George Ivens's Grammar and Vocabulary of the Lau Language, Solomon Islands (1921). Both Hopkins and Ivens (1871-1940) died before this volume was published.
The first known Anglican liturgical translations into Lau were made in 1903, with others following in 1912, 1938 and 1962. Although this book, published by the Melanesian Mission Press in 1945, was printed well after the 1938 Melanesian Book of Common Prayer, the services, for the most part, appear to be based more on the 1662 BCP. William Muss-Arnolt discusses translations into languages of Malaita, including Lau, in Chapter 46 of The Book of Common Prayer among the Nations of the World; David Griffiths lists this translation as No. 98:5 in his Bibliography of the Book of Common Prayer 1549-1999.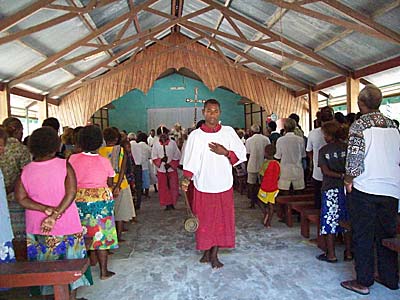 August 2008 procession in a parish at the bottom of the Lau Lagoon, at Gwou'ulu.
Courtesy of Bishop Terry Brown.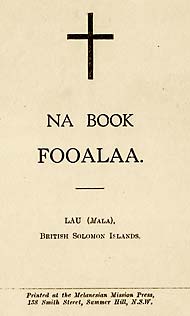 Table of Contents
Morning Prayer and Evening Prayer, 3-16
Litany, 17-23
Prayers, 24-27
Thanksgivings, 28-29
Holy Communion, 30-44
Preparation for Holy Communion in Schools, 44-46
Private prayers for morning, 47
Private prayers for evening, 48
Prayers to be used on entering church and before Holy Communion, 48-49
Thanksgivings for Holy Communion, 50
Catechism, 51-56
Hymns 57-80 [omitted]
Thanks are due to Richard Mammana, who transcribed the text, and to Thomas Rae for providing a copy of this book.