Before 1920, the Melanesian Mission used the Mota language (see the 1947 Mota BCP) as its lingua franca for educational and liturgical purposes. Portions of the 1662 Book of Common Prayer had been published in many other major local languages, and the 1662 BCP as used in New Zealand could have been used by English-speakers for services as necessary. From the 1920s, a switch to English as the official common language of the Mission took place as the population of Anglophone expatriates in British western Pacific territories grew and fewer mission staff studied Mota.
Among the distinctive features of this book are: the provision of shorter options for Morning and Evening Prayer, the addition of Prime and Compline, and large numbers of supplemental prayers and litanies without parallel in the 1662. It includes a service of Holy Communion but omits a baptismal liturgy—probably because of the small number of local infant or adult baptisms of English-speakers, and the availability of the 1662 English Prayer Book for pastoral services as necessary. The first edition does not contain a service for Confirmation, but at least one later edition does. This book is also significant for its adoption of the title "Book of Common Prayer" in light of substantial elaboration and adaptation of its contents for local use.
A Book of Common Prayer Authorised for Use in Churches and Chapels in the Diocese of Melanesia was first published in 1938 on Guadalcanal under the direction of Bishop Walter Hubert Baddeley (1894-1960), seventh Bishop of Melanesia. It was reprinted in 1944, 1947 and 1950 in Australia, where the Melanesian Mission Press operated during and after World War II, and again on Nggela Sule with revisions in 1953 and 1956. The current Prayer Book of the Church of Melanesia is A Melanesian English Prayer Book, first published in 1965. It incorporates many features of its predecessor, using more modern language.
Terry Brown discusses this BCP in his chapter on the Church of Melanesia in The Oxford Guide to the Book of Common Prayer, edited by Charles C. Hefling and Cynthia L. Shattuck (2006), pp. 348-353. The 1938 Melanesian BCP is not listed in Griffiths' Bibliography of the Book of Common Prayer.

---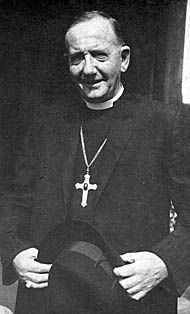 Bp. Baddeley
A Book of Common Prayer
AUTHORISED FOR USE
in Churches and Chapels
in the Diocese of Melanesia
Trinity, 1938. + WALTER MELANESIA
British Solomon Islands:
Printed at the Melanesian Mission Press, Hautabu, Guadalcanar.
1938.

---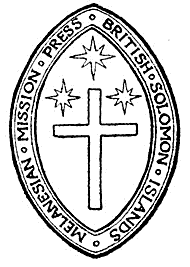 1. Prime. 7-10
2. A Shortened Form of Morning Prayer. 11-15
3. The Litany. 16-22
4. A Devotion before Holy Communion. 23-24
5. The Holy Communion. 25-40
6. A Shortened Form of Evening Prayer. 41-45
7. Evening Prayer. 46-54
8. Compline, a late evening Service. 55-60
9. The Psalms. 61-94
[Psalms 1, 4, 8, 9, 15, 16, 19, 23, 24, 27, 31, 33, 34, 37, 46, 47, 51, 57, 65, 67, 84, 90, 91, 95, 98, 100, 103, 104, 108, 111, 112, 113, 114, 117, 119, 121, 122, 127128, 133, 134, 138, 145, 146, 148, 150]
10. Prayers and Thanksgivings. 95-108
11. The Chaplet. 109-110
12. Litany of the Passion. 111-113
13. Litany for Missions and the Heathen. 114-119
14. Litany for Embertide. 120-125
15. Rogationtide Procession. 126-131
Appendix. 132-134