Malay is one of the major languages of South East Asia, where it has official status in Malaysia, Indonesia, Singapore and Brunei. It is spoken as a first language by about 40 million people, primarily in Malaysia, Singapore, Brunei, and parts of Sumatra. Additionally, a version of Malay is the lingua franca in Indonesia, where it is spoken as a first or second language by nearly the entire population. It is the sixth most widely spoken language in the world.
The first Anglican liturgical translations into Malay were published in 1836, with subsequent revisions and expansions in both Jawi script (based on Arabic) and in Roman characters (called Rumi) continuing under missionary auspices throughout the nineteenth and twentieth centuries. Today, the Rumi script is far more commonly used.
We present here two translations: one, a fairly complete Book of Common Prayer from 1915, and the other a newer partial translation from 1969. The first was translated by the Rev. William Henry Gomes (1827-1902) and George Frederick Hose (1838-1922), Bishop of Labuan & Sarawak and was published by the SPCK (Society for Promoting Chritian Knowledge). It was likely intended for use in British colonies and protectorates in Southeast Asia - i. e., what is today Malaysia, Singapore & Brunei. The second (1969) was published by the The Anglican Diocese of Sabah, which includes the Malaysian states of Sabah and Labuan on the island of Borneo. It is part of the Province of South East Asia.
As might be expected, Malay orthography (spelling) has changed over the years, and is also somewhat different in Malaysia and in Indonesia. Therefore, words in these translations may have different spelling today than when they were printed. Also, one will note that the two translations are quite different, which may be as much a difference of dialect as of time.
Griffiths identifies the 1915 translation as No. 100:8 and the 1969 as 100:9 in his Bibliography of the Book of Common Prayer. Both are translations of the 1662 Book of Common Prayer. William Muss-Arnolt discusses earlier Malay translations in Chapter XXXVIII of The Book of Common Prayer among the Nations of the World.

---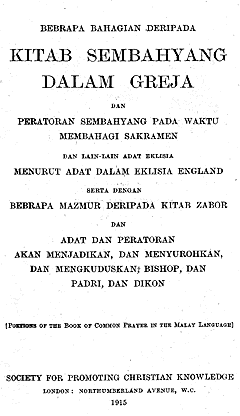 Title Page, 1915 Malay BCP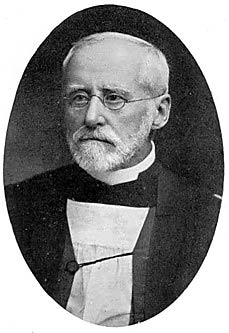 Bishop George F Hose
(Courtesy of Project Canterbury)