Tongan is a major Polynesian language spoken by about 100,000 people, mostly in the Kingdom of Tonga, but also by Tongan expatriates around the Pacific. A distinctive feature of the written Tongan language is the glottal stop or fakau'a; there is also a moderate use of some other diacritics, primarily the macron (horizontal line over a vowel). Orthography (spelling) in Tongan, as in many languages, has changed over the years: In the texts presented here, "j" and "b"are currently represented by "s" and "p", respectively. Thus "Jesus" in Tongan is "Jisu" in these texts, but is now spelled "Sisu".
Christianity in Tonga began in the early 19th century with the arrival of several groups of missionaries. In those days English missionaries "divided up" the Pacific Islands among them, resulting in Tonga being evangelized primarily by the Wesleyan Methodists, now the largest denomination in Tonga. One of their missionaries, Shirley Baker, became disenchanted with the Methodists and formed the Free Church of Tonga with King George Tupou I. Later, in the late 1890s, Baker independently organized an Anglican mission. In 1899, he wrote "I have had the Prayers printed," and this may mark the first publication of parts of the Book of Common Prayer in Tongan. The first canonically organized Anglican presence in Tonga began in 1902 with the arrival of Alfred Willis (1836-1920), second Bishop of Honolulu. Willis organized a diocesan structure, and translated the office for Holy Communion, Collects and other parts of the BCP which probably form the basis of these translations. Currently, Anglicans in Tonga are administratively part of the Diocese of Polynesia (Tikanga Pasefika) in the Anglican Church in Aotearoa, New Zealand and Polynesia.
Two texts are presented here, both incomplete Books of Common Prayer, one from 1912 and one from 1938. The 1912 book surprisingly does not appear in David Griffiths' Bibliography of the Book of Common Prayer, while the 1938 text is listed as 178:2. The entire 1912 Book is presented as HTML text; for the 1938 Book, the major services are given as HTML text through the links below, with the entire Book (including the Psalter and Hymnal) as PDF graphics. There is text "behind" the PDF graphics, but that has not been proofread and undoubtedly contains errors. Additionally, the current New Zealand Prayer Book contains portions of the Eucharist in Tongan.
For more information, see Tongan Anglicans 1902-2002: From the Church of England Mission in Tonga to the Tongan Anglican Church, edited by Allan K. Davidson (Auckland: College of the Diocese of Polynesia, 2002) and In Some Sense the Work of an Individual: Alfred Willis and the Tongan Anglican Mission, 1902-1920, by Stephen Donald (Hibiscus Coast, N.Z: ColCom Press, 1994).
Thanks are due to Richard Mammana, who supplied and transcribed the 1912 text and pictures, and wrote most of the introduction.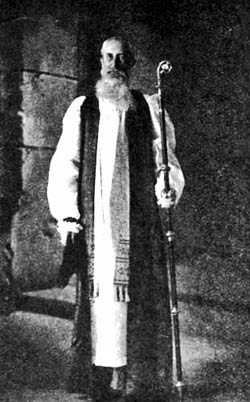 Bp. Alfred Willis, likely translator of the 1912 Tongan BCP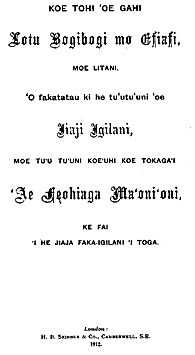 Title page, 1912 BCP