The Isle of Man, a self-governing dependency of the British Crown, is located in the Irish Sea. Despite geographical proximity and cultural connections to Scotland, Ireland, England and Wales, it is not part of the United Kingdom. Anglicans on the Isle of Man attend parishes of the Diocese of Sodor and Man. Manx Gaelic is the ancient language of the Isle of Man and is related to Irish and Scots Gaelic. Its last first-language speaker died in 1974, but successful language revival projects have resulted in the education of dozens of children as native speakers through the Bunscoill Ghaelgagh Manx-language primary school and an education charity, Mooinjer Veggey. More than 1500 people now speak Manx as a second language, and Manx is recognized under the European Charter for Regional or Minority Languages.
The Book of Common Prayer was first translated into Manx in 1610 by Bishop John Phillips, but this existed only in manuscript form until 1895. The first published translation was done in 1765 by Robert Radcliff and Matthias Curghey, under the direction of Bishop Mark Hildesley, who also had the Bible translated into Manx. This translation was reprinted a number of times throughout the 18th and 19th centuries; those from 1769, 1777 and 1895 are online, the 1895 reprint appearing both as HTML text and as PDF graphics (Vol. 1, Vol. 2). This 1765 translation includes everything in the 1662 BCP save the Ordinal, Baptism of Adults, and Prayers at Sea.
We present here an 1840 printing (which appears in David Griffiths' Bibliography of the Book of Common Prayer as 105:9) as PDF graphics. There are bookmarks for navigation and also extractable text, although that text has not been proofread and contains errors. The title page of this book may be seen at right. (Note that this copy is missing the last few pages of the Psalms in Metre).
In recent years, Manx has been used for occasional church services sponsored by the Manx Gaelic Society. We also present here service leaflets for these events published in 1924, 1930 and 1951; they have no copyright statements, and they are reproduced in html here for religious, scholarly, or other personal use.

Further information on the Manx Book of Common Prayer may be found in Chapter 8 of The Book of Common Prayer Among the Nations of the World and in Vol. 1 of the 1895 translation. More information on the Manx Gaelic language may be found in Wikipedia and Omniglot.
Download the 1840 Manx Book of Common Prayer (size = 38MB)


Flag of the Isle of Man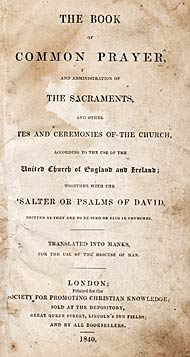 Title page, 1840 Manx BCP