Iban (formerly called Sea Dayak) is a Malayo-Polynesian language spoken by nearly 700,000 people in Sarawak (Malaysia), Brunei, and adjacent Indonesia. It is the most widely spoken indigenous language in Sarawak. It is closely related to Malay, the dominant language in Malaysia and Indonesia. As with most languages, Iban has a number of dialects; the texts given here should be understood by Iban speakers living in Malaysia, but possibly not by those living in Indonesia.
Portions of the Book of Common Prayer have been translated into Iban from the late 1800's and up to the present day. William Muss-Arnolt discusses earlier Anglican liturgical translations into Iban in Chapter XXXIX of The Book of Common Prayer among the Nations of the World (1914).
Two translations are presented here. The first is a fairly complete translation of the 1662 BCP, printed in 1914. It appears in David Griffiths' Bibliography of the Book of Common Prayer 1549-1999 as 28:3. We have the more important services as HTML text (see the Table of Contents below), plus the entire book as PDF graphics.
The other is a translation of several orders for the current Province of South East Asia service of Holy Eucharist into Iban, as used in the Diocese of Kuching (basically the province of Sarawak); see the links below on the right.

---
SURAT SAMBEYANG
IYA NYA,
SAMBEYANG PAGI ENGGAU SAMBEYANG LEMAI ENGGAU SAMBEYANG SAKRAMEN,
ENGGAU
ADAR BUKAI DALAM ADAT SEMBAH EKLISIA
NUNDA KA EKLISIA ENGLAND:

AGI MEGA
SKEDA MAZMUR BAKA TI DINYANYI DALAM GREJA:
AGI MEGA,
ATOR SAMBEYANG
TI ENGGAU MASOK KA ORANG
NYADI BISHOP, PADRI, ENGGAU DIKON.
[THE BOOK OF COMMON PRAYER OF THE SEA DYAK MISSION]
SOCIETY FOR PROMOTING CHRISTIAN KNOWLEDGE
LONDON: NORTHUMBERLAND AVENUE, W.C.
1914
---
RICHARD CLAY & SONS, LONDON,
BRUNSWICK STREET, STAMFORD STREET, S.E.,
AND BUNGAY, SUFFOLK.

---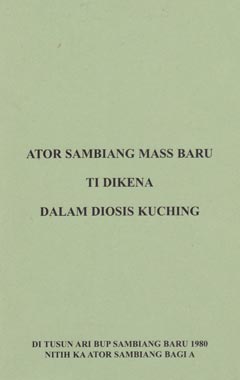 Thanks are due to Richard Mammana, who transcribed the Eucharist text from a copy of the 36-page pamphlet provided by the Diocese of Kuching. It is reproduced by kind permission of the Bishop of Kuching.
UTAI TI DALAM SURAT TU.
Table of Contents
l. Baka Mazmur ditaga dibacha.
2. Bacha ti ditaga ka Hari Minggu enggau Hari Kudus lain.
Lessons for Morning & Evening Prayer on Sundays & Holy Days
3. Surat Bulan enggau Bacha ka tiap hari.
Kalendar (Daily Office Lectionary)
4. Hari Raya enggau Hari Pasa.
Tables & Rules for Sundays & Holy Days
5. Sambeyang Pagi.
Morning Prayer
6. Sambeyang Lemai.
Evening Prayer
7. Litani.
Litany
8. Lain Sampi Pinta enggau Sampi Puji.
Prayers & Thanksgivings
9. Sampi, enggau Epistola, enggau Injil ti dikena sapemanjai taun.
Collects, Epistles & Gospels
10. Sambeyang Eukarista.
Holy Communion
11. Sambeyang Baptisa Anak biak ti mit.
Public Baptism of Infants
12. Sambeyang Baptisa Anak Biak ti mit delam rumah.
Private Baptism of Infants in Homes
13. Sambeyang Baptisa Orang ti besai Tuai.
Adult Baptism
14. Sambeyang Tetap.
Catechism & Confirmation
15. Sambeyang Tikah.
Holy Matrimony
16. Sambeyang enggau Ngabas orang Sakit.
Visitation & Communion of the Sick
17. Sambeyang enggau Numbak orang Mati.
Burial of the Dead
18. Sambeyang Puji ka Indu ti baru udah Beranak.
Thanksgiving of Women after Childbirth
19. Sambeyang ti ngenang Ukum orang Penyalah.
Commination
20. Skeda Mazmur.
Selections of Psalms
21. Ator Sambeyang enggau Masok ka orang nyadi Bishop, Padri, enggau Dikon.
Ordinal
22. Pantun.
Hymns
23. Tanya-Saut.
Addtional Catechism