---
The Net Is My Shepherd
(c) 1996 Shift Magazine (August 1996 issue, p.36-38)
Photo by Gregory Crow.

God is not dead, he's digital. Or that's what many unhappy churchgoers think. But can the net attract a congregation outside of weirdos and rejects? Dave Napier finds out.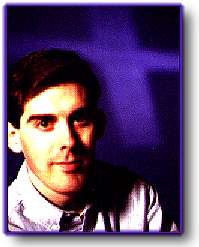 The black-and-white image of Tod Maffin appears on the computer screen, and the first thing that pops to mind is that this guy looks more like an altar boy than a priest.
But the Gen-Xer with the toothy grin, big ears and desert-dry sense of humour -- his home-page bio is titled "My Pathetic Life to Date" -- has been instantly transformed by the Internet into a spiritual guru. He's one of the hot new breed of cyber-churchgoers who eschew traditional religious gatherings for the more relaxed-and anonymous-forum of the Net. Sites like his are attracting people who can't seem to get what they need from conventional religion. "A lot of people think I'm a priest," says Maffin. "I'm not. I'm just a 26-year-old schmo who doesn't even go to church all that regularly."
Still, Maffin's life took a hairpin turn when the Vancouverite put together a few computer links for the Anglican Church in Canada. Anglicans Online! was designed to be a conduit for information about the denomination. The site was a very modest success, attracting one or two visitors a day, until Maffin posted a message to a Christian discussion group. In a single night, more than 1,000 visitors made the pilgrimage to his site. Anglicans Online! quickly became, Maffin says, this "monstrous creature."
With 5,000 people visiting his site every day, it's no wonder Maffin refers to the Internet as "the world's largest pulpit." But he's quick to add that he's not online to preach the word of God, or even to promote Anglicanism, for that matter. Instead, Maffin, whose site has no official ties to the Anglican Church, posts information about faith issues-ranging from the heresy trial of a New Jersey bishop to church etiquette-that might otherwise go unexamined.
The information is lustily gulped down by those like Stephanie Campbell (not her real name), a teenager who was just looking for straight answers and a little compassion. Stephanie experienced every teenager's growing pains, but the hormonal battle that turns most kids into bundles of anxiety that would make Woody Allen seem serene was intensified by her eventual realization that she is gay. That members of her local church wouldn't accept the "new" Stephanie made things almost intolerable. Fuck them, she thought, I haven't done anything wrong.
This [site] has given me a sense of belonging to the Christian community even though I can't belong to a church that's in my neighbourhood.
Depression followed anger until one day she saw a great light. This epiphanic glow did not take the form of sunshine filtered through a stained-glass window-but it was heaven sent. Salvation emanated from her computer screen, and specifically from the typed messages of Reverend Charles Henderson, pastor of The First Church of Cyberspace. When the teenager from the southern United States discovered the site, she was elated: "I'm so happy to be able to attend the First Church of Cyberspace," bubbled her message to the Montclair, N.J.-based missionary who welcomed her with open arms and a 14.4-baud modem. "I am the daughter of a Baptist minister and I'm also a lesbian and I've been made to feel ashamed to go to any of the local churches that are available to me because they basically condemn homosexuals. This [site] has given me a sense of belonging to the Christian community even though I can't belong to a church that's in my neighbourhood."
As Rev. Henderson says, "It is precisely the children and grandchildren of our membership, who have dropped out of our churches and have moved over into the secular culture, who are disproportionately represented in cyberspace." Simply put, the Net has, for better or worse, become to the 90s what drive-in movies were to the 50s and discotheques were to the 70s: a place where a generation congregates. And whether it's the Bible, Talmud or the Koran, teachers of these tomes must recognize that virtual churches present a phenomenal opportunity to reach the world's spiritually disenfranchised but electronically aware.
All this talk of gathering and welcoming comes none too soon, given that attendance at churches, synagogues and temples has fallen well below traditional levels. According to a 1993 Angus Reid/Maclean's magazine poll, the shepherds of Christian communities have been particularly hard-pressed to keep their flock together: only 16 per cent of Anglicans, 20 per cent of United Church adherents and 30 per cent of Catholics attend religious services every week. Although there are approximately 10 million
Presbyterians in the United States, only 2.7 million go to church regularly. Poor attendance at church, however, belies the fact that an overwhelming majority of people still believe in a God of some kind. The poll found that 78 per cent of Canadians define themselves as Christians, one per cent say they are Jews, and half a per cent are Hindus, Muslims or Buddhists.
By striking a happy balance between preachy and passive, Rev. Henderson, Maffin, and a handful of others are doing in a few short key strokes what organized hymnal-touting religious leaders the world over have struggled to do for years: attract young people.
By striking a happy balance between preachy and passive, Rev. Henderson, Maffin and a handful of others are doing in a few short key strokes what organized hymnal-touting religious leaders the world over have struggled to do for years: attract young people. Perhaps the most impressive technological high-wire act to capitalize on this is performed by Jacques Gaillot, a French bishop exiled by the Pope to a Saharan diocese for promoting the use of condoms to curb the spread of AIDS, condoning priests to marry, and urging tolerance of homosexuality. The liberal liturgist has founded Partenia, the world's first virtual diocese.
But even Bishop Gaillot is a Johnny-come-lately in the cyber-realm. For God's sake, confessions have been made online for years, and support groups have had a presence on the Net for even longer. In the wake of the Challenger space shuttle disaster in 1986, a memorial service was held online for those who were emotionally torn apart by the TV images of the mission as it ended in a fiery wreck. Response to the gathering was warm enough to dispel any notion that the powers of deities do not transmit digitally. One mourner messaged the organizers saying, "The peaceful and non-intrusive nature of the service enabled personal prayer and reflection... for me."
The swirl of cyber-religious activity lends credence to the late Canadian professor and historian, George Rawlyk, who said that, "Informal religious beliefs are emerging because people are fed up with institutional churches." The question, as Rawlyk put it, then becomes whether these groups can "bring people into the fold." Certainly, the technological infrastructure exists to facilitate a military-like draft, but the so-called "Digital Revolution" and the search for what one Web site refers to as "the presence of the Creator within the creative chaos of the Internet" is not likely to spawn a religious reformation. Not on the scale of 16th-century ground swell that established Protestantism, and not even one that would rival the rise of televangelism. The medium is simply not conducive to the pulpit-pounding that made television a fabulously effective soapbox for sweaty men in suits a la Jimmy Swaggert.
For all the talk of "communities" and "gathering" that goes on online, however, it is unlikely that anything will ever replace churches, synagogues and temples, and the shoulder-to-shoulder worship that goes on there.
"We all jump on bandwagons and partake in fads, but I can't see it changing religious life in any significant sense."

Rabbi Marmur
Holy Blossom Temple, Toronto
"Use [of the Internet] is limited because religious organizations depend on community and holding hands," says Rabbi Marmur of Holy Blossom Temple in Toronto. "We all jump on bandwagons and partake in fads, but I can't see it changing religious life in any significant sense. People are writing more for themselves than they are willing to put into the community-there is a sense of narcissism and consumerism."
Another downside to the sort of free flow of information and emotion on the Net is that jerks and jokers are able to make forays into cyberspace and prey on vulnerable souls. The list of suspect Web sites is as long as Lucifer's fall from grace: there's SuperChurch, Cyber Chaplin and another group laying claim to the holy moniker First Church of Cyberspace. (In this case, it's a Florida-based organization that bills itself as a place where "none of the people... are anything like you think they are.") All peddle their message with the persistence of car salesman and an impunity usually reserved for street-corner pamphleteers.
Certainly the threat of hate mongering and other abuses is real, and the corruption of young minds is a risk. But "any human tool is going to be used for evil as well as good," reasons Rev. Henderson. "I happen to be an optimist and think the potential for good is tremendous and very strong in computer networking."
Gerry de Koning agrees. The software developer and "elder" at Knox Presbyterian Church in Toronto has put the stone building on Spadina Avenue online and is helping others do the same via his "Discussion Starter About a Church Web Page." Unpaid and overworked, de Koning makes no bones about why he does it: "To spread the word of Jesus." This brief bout of Bible-thumping is about as much salesmanship as the bearded, heavy-set man can muster before adding, "Whether it's us or some other religion, people should have a place to go."
The Net may be too impersonal to ever be an effective substitute for knee-to-the-ground worship, and not so engaging as to replace the slick images of Sunday morning TV. Nonetheless, "digital" and "deity" can co-exist. Says Rev. Henderson: "For those of us in the ecumenical, organized church, this is really a historic opportunity to reach new constituencies."
God, it seems, has gone digital.
---