Silence please as Conference observes vigil
by David Skidmore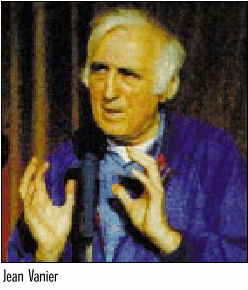 The silence of an all-night vigil will descend on the Conference from 3.30pm today as bishops, spouses and staff take a recess from workshops, section meetings and administrative tasks. Led by Jean Vanier, founder and director of the L'Arche network of communities for people with learning and other disabilities, the vigil will feature three meditations, a Service of Light, and a Service of Reconciliation which includes a liturgy of foot-washing. The vigil will be held in the main plenary halls, concluding with the 7.15am Eucharist tomorrow. It begins with the Archbishop of Canterbury introducing Mr Vanier who will give a ``holiness'' reflection and address. Three bishops will then respond: Bishop David Andres Alvarez-Velazquez (Puerto Rico, US),Bishop Barnabas Dwijen Mondal (Dhaka, Bangladesh) and Bishop Thomas Shaw (Massachusetts, US). These responses will be followed by a mime performance by L'Arche Community of Canterbury, and the Service of Light. Participants will then break for dinner at their assigned dining halls.The meal will be simple, in keeping with the vigil. The vigil will resume at 8.30pm with the Service of Reconciliation. MrVanier will give the homily and join the chaplaincy team in the foot-washing liturgy. All those participating in the vigil are encouraged to join in the foot-washing. A prayer watch will be maintained throughout the night in St Augustine's Hall.
``The vigil is essentially a celebration-of reconciliation and of humility and of love, and the love of Jesus,'' MrVanier says. ``What we are going to suggest is that if bishops and their spouses would wish they can wash each other's feet.'' The reason, he says, is to underscore the nature of discipleship. As followers of Jesus, Christians are being called forth ``to love and to serve each other.'' In washing one another's feet, they are learning about forgiveness, reconciliation, and the desire for humility, he says.
A noted French Roman Catholic lecturer and retreat leader, Mr Vanier founded the first L'Arche community in Trosly-Breuil, France, in 1964.
Today, L'Arche network has more than 100 communities in 29 countries. In addition to serving the physical and psychological needs of its clients, L'Arche also sees to their spiritual development, a characteristic that sets it apart from most institutions for the mentally handicapped. Mr Vanier is also founder of the Faith and Light community movement, which brings together the mentally handicapped and their parents and friends for mutual celebration and support.