---

Euthanasia looms as critical issue for Section One
by Margaret Rodgers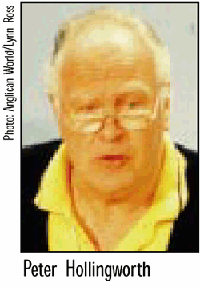 Do you have the impression that Section One is talking only about human sexuality and international debt? They are just two of a wide range of justice and social issues the section participants are addressing. Euthanasia, a critical issue for many parts of the Communion, is another important subtheme. The subsection bases its theologicalethical reasoning on the doctrine of the sovereignty of God, its understanding of the sanctity of human life that is a gift from God, and the divinely mandated stewardship of the created order. It also emphasises the pastoral nature of the issue.
``Everyone wants a good death,'' Archbishop Peter Hollingworth of Brisbane (Australia) says. ``As the Lambeth Conference of Bishops, we must emphasise that God works redemptively through suffering. Those who advocate euthanasia show little awareness of the Christian experience that people may be redeemed and transfigured through their suffering. ``Euthanasia, understood as active medical intervention to end a life, is still of urgent, critical concern for our nation,'' he added. ``Attempts were made by proeuthanasia groups in a number of states in Australia to achieve legislation. Only the Northern Territory government successfully passed legislation to allow doctors to intervene to end or to assist someone to end their life. This legislation, the first of its kind in the world, was overturned by the Australian national Parliament.''
All dioceses of the Anglican Church of Australia were active in the Euthanasia No! Campaign. In the Northern Territory Bishop Richard Appleby played a leading part in the ecumenical and interfaith action against the law. ``We were united in our opposition,'' Bishop Appleby said. ``Apart from our ethical and moral objections to the legislation we knew we had to work for the indigenous Aboriginal people. ``They were strongly opposed for cultural reasons. But many of the tribal people also were refusing to consult doctors or attend clinics because they were fearful of the effects of injections. This lack of understanding was because of inadequate consultation with the indigenous communities.''
Archbishop Hollingworth, chair of the Lambeth euthanasia sub-section, steered a debate that resulted in a resolution passed unanimously by the Australian General Synod in 1995. The Lambeth sub-section is working to prepare a strong statement for the Conference, and has reached consensus on the definition of the term. ``Euthanasia does not mean termination of treatment by medicos, or a patient's decision not to seek further treatment, or the ending of life support for a patient in a permanent vegetative state,'' Archbishop Hollingworth said. ``It means active intervention by a medical team.''
The sub-section includes people with a professional background in the area, including Bishop Chilton Knudsen (Maine) who has extensive palliative-care experience. Archbishop Hollingworth said that Australian Anglicans, while actively opposed to euthanasia, called urgently for all State governments to provide sufficent financial resources for the further development of palliative-care facilities.
``This was a strong emphasis in our General Synod motion,'' the Archbishop said.``We bishops must also include this stress in our Conference report.'' Bishop Appleby said: ``One reason why the Northern Territory government passed their euthanasia law was the lack of palliativecare specialists and facilities in Darwin and the rest of the Territory. There was only a handful of palliative-care beds available.''

Back to front page of this issue