---

Stories reveal interfaith tension and cooperation
by E.T. Malone, Jr

The diversity of Christian-Muslim relations was emphasised by stories of tension and cooperation from Africa, Asia, Britain and the Middle East in Monday's interfaith plenary.

Bishop Michael Nazir-Ali (Rochester, England) opened the plenary with news of the killing of three Roman Catholic nuns in the Yemen, reportedly by Islamic extremists. Later he reminded the Conference that the Prophet himself ``had very close relationships with Christians and Jews. Some were among his closest friends and colleagues...What then has gone wrong?'' Bishop Tilewa Johnson (the Gambia) described his overwhelmingly Muslim country-95 percent Muslim, three percent Christian--as a country of tolerance and openness, in sharp contrast to the tales Bishop Josiah IdowuFearon (Kaduna, Nigeria) told 20 minutes later.

Bishop Johnson described his country as a secular state ``with freedom of religion enshrined in the constitution,'' where ``Christians and Muslims attend each other's weddings and funerals.'' Intermarriage occurs, and ``within the extended family there can be both religious communities,'' he said. ``All state functions are preceded with prayers by leaders of both religious communities.'' Christians and Muslims collaborate on social concerns and in development work,he added.``A social priority of the Christian missions has been the establishment of schools.

``Therefore, many Muslims have passed through Christian schools, taking part in religion classes and acquiring a knowledge of the Bible and a deep understanding of the Christian tradition.'' Christians may not have the same depth of understanding of Islam. Bishop Johnson pointed out that ``experience has shown it is essential to have a knowledge of Islam in order to share the Christian faith effectively with Muslims.'' He admitted that genuine converPlenary focuses on Christian-Muslim relations sions ``evaporate over time.''

But, he said, the tradition of rural Muslim children being sent to urban Christian families for upbringing and formal education can have ``a gradual, but profound effect . . . hearts can be turned quietly but surely.''
Opposite situation in Nigeria
Today, said Bishop Idowu-Fearon, 85 to 90 percent of the population in the north of Nigeria is Muslim while Christians make up only three to five percent.
In the central region of the country where he lives, Christians and Muslims dwell in equal numbers, while in the south Christians outnumber Muslims in about the same proportion as Muslims outnumber Christians in the north. ``Provision is not made for Christian education in the state schools.The public propagation of the gospel by the media is prohibited. There is serious enmity or hatred...between Christians and Muslims in Nigeria, especially in the middle part of the country...We've lost over 10,000 lives in the name of religion and more thousands have been displaced...and millions of dollars of property lost.''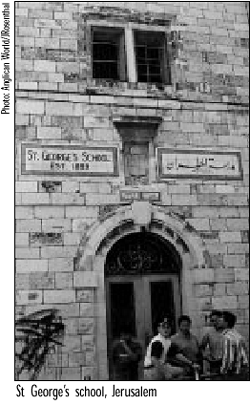 The 2,000-year presence of Arab Christians in the Holy Land is ``nothing less than an awesome achievement,'' Bishop Riah Abu el-Assal (Jerusalem) told the plenary. But after 150 years of living under ``a superimposed Western veneer,'' Arab Christians number barely 1.5 percent of the population of Palestine and Israel, he noted. ``Our mere physical presence is at stake,'' he said, a situation that demands the attention of the Anglican Communion, ``lest the Holy Land become a museum of holy stones.'' During 1,300 years of ``daily living dialogue'' with Muslims, there have been instances of discrimination and persecution, but despite these difficulties ``we became accustomed to live with them, and they learned to appreciate our presence among them.''
Muslims in Palestine, he noted, historically were ``more tolerant of religious pluralism than their European counterparts,'' and enabled a more lasting peace during their dominance of the Mediterranean basin than was the case under Christian or Jewish rule. For the 1,000 Anglican Palestinians, if not all 150,000 Arab Christians, ``our experience with Islam has been one of mutual respect, and mutual trust,'' he said. For example, in Christ Church School in Nazareth, 65 percent of the 600 students are Muslims. ``All take Christian education courses and do better than our own in their exams,'' noted Bishop Riah. There have been few clashes over religious issues in the school's 30-year history, he added. The biggest concern has been arbitrating disputes among parents over which children get to star in the Christmas pageant.``We do not impose it.We share it in the spirit of truth and love, and we do not compromise our conviction.''
Bishop Alexander John Malik (Lahore, Pakistan) pointed out that religious pluralism is not a welcome concept in most Muslim circles in Pakistan. While a Muslim man can marry a Christian woman, the reverse is out of the question for a Christian man and a Muslim woman. It is okay for a Christian to convert to Islam, but not for a Muslim to become a Christian.``Apostasy in Islam is a grave sin and an apostate is liable to be killed,'' Bishop Malik said. ``There is no freedom of religion/conversion in Islam.'' Under Islamic law in Pakistan, state and the Church are one and the same: ``Islam is not only a religious faith, but a political ideology as well. In Islam, religion and politics are intertwined; they go hand in hand,'' he said.
The pool of Muslims that believes Islam needs to be open to concepts of plurality and religious tolerance is increasingly under fire, he said. The split between modern Muslims and those espousing an Islamic state run strictly under the law of Sha'riah is deepening, as illustrated in Algeria where the state is virtually under siege by fundamentalists, and in his home country of Pakistan where enforcement of the blasphemy law has jailed or killed a number of Christians.
``Blasphemy law is like a hanging sword for the minorities,'' he said, citing the case of a local counsellor who was shot for defending a Christian graveyard against desecration, and the burning of the Christian village of Shantinagar by a mob of 30,000 incensed over the village's reported desecration of the Qur'an. ``The most noticable expression of Islam in the present-day world is the rejection of Western civilisation and culture,'' Bishop Malik said.This may be because the West is seen as too Christian and because of the overwhelming secular influence in most Western societies. ``On this, the educated Muslim is really torn,'' he said. Bishop Malik cautioned against addressing Islam from a fixed or stereotyped posture. Our response as a Communion ``has to be open, liberal and flexible,'' he stressed. However, ``this openness and flexibility does not mean we should accept the ideology of Islam without its critical evaluation, or reject it without reason, or compromise with it at the expense of Christian principles.''
Tales of co-operation
Anglican leaders from Egypt and England told how Christianity can cooperate with Islam despite the best efforts of extremists. President Bishop Ghais Malik (Egypt) told ``how the Christian minority live among the Muslim majority'' in Egypt and the Middle East. He stressed that ``through the centuries Christians and Muslims have lived together, during times of joy and times of trouble.They faced wars together, and so fought together, died together, and survived together.'' Christians and Muslims, said Bishop Malik, ``are part of the one body of Egypt.'' Bishop Malik went on to address the issue of persecution and emphasised that ``we have to differentiate between `persecution' and `difficulties and problems.''' He drew a distinction between the word persecution ``used when the government targets a minority group and wishes to dissolve that group,'' and the concept of troubles and difficulties which ``are started by blinkered individuals or fanatic Islamists with closed minds.''
The latter, said Bishop Malik,``I personally do not call persecution.'' He drew attention to events of the past few years when ``churches were burnt down, Christians were killed, Christian shops were raided and burgled,'' when claims of persecution were made. But ``this was not a direct attack against the Christians for their own sake, but an attempt by the terrorists to shake the stability of the country, hoping thereby to bring down the government and rule themselves.'' ``I see a great need for Christian-Muslim dialogue,'' said Bishop Malik.``I recommend it and, indeed, it has already been started.'' He stressed the importance of the work being done, including a 1995 visit to Egypt by the Archbishop of Canterbury and a return visit the following year of the Grand Sheikh to London.
The final speaker of the plenary was Bishop David Smith (Bradford, England). He expressed his hope that the story his diocese would ``encourage and offer opportunity for challenge to others.'' Bishop Smith told how Muslims in Bradford ``look to the bishop as a spiritual leader, since it is his responsibility to ensure people's rights.'' This focus comes out of the Muslims' sense that they are ``in a strange land.'' Bishop Smith identified several policies established ``to develop and foster good relations.''These are ``to encourage people to meet, to build up a sense of trust and respect for those who are different, and to fight against `Islamophobia' where Islam is misrepresented.''
Lisa Barrowclough, Nan Cobbey and David Skidmore contributed to this report.

Back to front page of this issue