---

Spouses seek cures for health crises
by Roland Ashby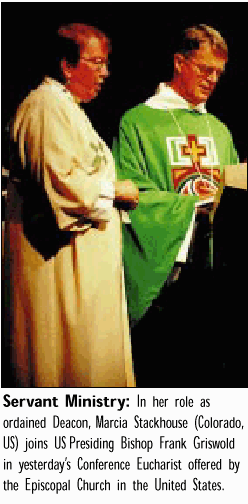 Twenty-eight thousand children die each day from largely preventable diseases. Every minute of every day eight babies die following pregnancy, and one woman dies from pregnancy-related complications.
Dr Yuji Kawaguchi, of the World Health Organisation, related these and other startling figures in a major presentation to the Spouses' Programme on July 22. Speaking on the theme ``A Healthy World? Strategies for Hope,'' Dr Kawaguchi and other experts addressed key health issues facing the world.
In 1997, 5.8 million people were newly infected with HIV, and 2.3 million people died from AIDS, Dr Kawaguchi said. He warned that if the world's mean temperature increases by only one or two degrees centigrade, as recent scientific studies suggest, mosquitoes may extend their range to new geographical areas, leading to more cases of malaria and other infectious diseases. He also expressed concern about the susceptibility of infants and children to the increased use of chemicals worldwide. Sheila Ramalshah, wife of the Bishop of Pakistan, described Pakistan's allocation of only two percent of its income to health care as ``abysmal.''
She said: ``It seems the powersthat-be have decided that it is more important to spend about 70 percent of the nation's income on militarism and the related repayment of international debt. Such a situation means we are woefully ill-equipped...to serve our community through health care.'' Diseases related to women are being especially aggravated by Pakistan's social structure.``In my area of the North Western Frontier Province, women can only be heard and not seen, except behind the high walls of their dwellings.
``Their lives become so domesticated and mechanised they are primarily perceived as child-producing machines. As for sexually related disease among women, we dare not even guess the true reality.'' Mrs Ramalshah said the ``whole issue of HIV positive and AIDS is still a taboo subject in our society.We are quite convinced there must be a lot of cases of this nature in our diocese, especially as homosexuality is rampant there. But there is neither public awareness nor any public debate on these issues.''
She added that she and her husband often feel ``frustrated in sharing these needs with the western churches, who often react to them as if the Church is wasting its resources by seemingly duplicating societal programmes.'' She challenged the Church ``to be true and obedient to its call to servanthood by meeting the needs of suffering people.''
Protecting women from AIDS
Mrs Juliana Okine, wife of the Bishop of Ghana, attributed Ghana's growing AIDS problem to ``the unlimited matrimonial powers that husbands generally wield over their wives...when it comes to contraception and AIDS protection. ``The fact that only the male condom is widely available in itself gives a promiscuous man power to sentence a woman to death if he will not use a condom.''
Bishop Geralyn Wolf (Rhode Island, US) strongly criticised the American health-care system. ``I stand here...as a citizen of the most technically advanced country in the world with regard to health care (and yet) if you're unemployed or in parttime work in America, health care is difficult to attain.'' Captain Ian Campbell, International Health Programme Consultant for the Salvation Army, advocated a more integrated community development approach to the care of those suffering with AIDS, in which hospitals, clinics and churches offer community counselling, education and support in partnership with people in the home, neighbourhood and local community.
Archbishop David Gitari, of Kenya, said most illness in his diocese was preventable.``Many people catch water-borne diseases such as typhoid, dysentery and cholera. They need only to be told to boil water, even the tap-water, before they drink it.'' Simple education programmes have been most effective in tackling these problems, Archbishop Gitari said.
The final speaker, Mr Hugh Bailey, MP for York and Parliamentary Private Secretary to the British Secretary of State for Health, said the government believed the answer to social and health problems lay in people deciding to take responsibility at every level.
Back to front page of this issue