---

Spouses contend with strife and heartbreak
by Carol Barnwell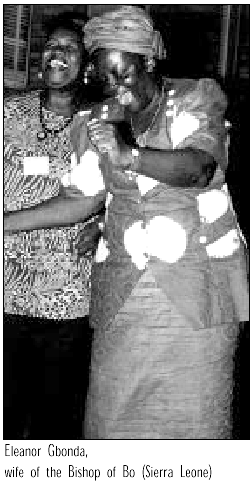 ``Satan falls down, Jesus stands up,'' sang the group of eight spouses from the Province of West Africa, bending low or reaching high in physical response to the words. The impromptu prayer and praise filled the foyer of Rutherford College with lively melody following dinner last week.
Even though the Conference provides a respite, the women, who have 37 children between them, say they pray constantly for family and friends at home in their troubled part of the world. In May last year Eleanor Gbonda woke at 2am when 20 armed soldiers stormed her home in search of her husband. ``There was a coup and the rebels knew the Church would never support them so they came looking for us,'' says Mrs Gbonda, wife of the Bishop of Bo, Sierra Leone.
``They took three vicars away that night,'' she says, believing that only prayer saved her family. ``They went without killing us,'' she says as she lays her hands softly in her lap, resigned to memories that will never leave her. ``When I heard about the coup I was visiting my daughter in the United States,'' Alberta Lynch, wife of the Bishop of Freetown, says. ``I called home but got no answer. When I finally reached my sister I could hear heavy blasting from the guns.'' No one knew the whereabouts of her husband and everyone was afraid to talk on the phone. Several weeks passed before she learned her husband, Bishop Julius Lynch of Freetown, was indeed safe although the Cathedral was bombed and rebels planted an anti-aircraft gun in the bishop's compound.
Things are relatively quiet in Sierra Leone these days. The legitimate government has been restored while families are left to mourn their dead and heal their wounded. Mrs Lynch returned home several months later and has done much for the children left in the wake of this adult conflict. A video she brought to Lambeth shows hospital wards lined with old hospital beds, fitted with mismatched sheets. Mosquito netting hangs limply from the ceiling over each. A small child sleeps on the tiled floor, unaware of the visiting group of Cathedral women who have come to hand out toiletries and small gifts.
``Papa God, please watch over these children,'' the women pray,``our leaders for the future who suffer so much today.'' The children become animated when the women engage them in song but mostly their eyes are blank. They look sad and tired. They have seen too much. In one bed a mother and her daughter lie with bandaged stumps where their left hands used to be. They accept a bar of soap quietly as a nurse in a starched uniform checks bandages on the teenager next to them.
Louise Neufville, wife of the Bishop of Liberia, does not want to talk about the war in her country. ``I can't think about it,'' she says as she turns her back on the group of women. Tears well in her eyes as she shakes her head. ``There were bombs.We hid in the bushes for three days. I just can't speak of it anymore.'' Churchwomen's groups feed and house children left on the streets as a result of the years of conflict in West Africa. Others like Dorcas, a women's group in Liberia, assist the handicapped and disabled. The bishops' wives are amazingly resilient. Conflict comes and goes--- and hopefully stays away. They are grounded ``In our part of the world the congregation (mistakenly) thinks you have everything'' and that you can help in any situation.
Marie Yeboah, wife of the Bishop of Kumasi, recalls a mother who showed up at the bishop's home with her feverish three-year-old. In place of the absent bishop, Mrs Yeboah prayed over some tap-water and gave the child a blessing, to the great relief of its mother. ``If the bishop is not there and someone comes for help, you must act!''

Back to front page of this issue