Anglicanism in Burma traces its origins to a mission of the Society for the Propagation of the Gospel beginning in 1854. Today, the Church of the Province of Myanmar (Burma) is an autonomous province of the Anglican Communion with six dioceses and one theological college.
The first full translation of the Book of Common Prayer into Burmese was published in 1884 (Griffiths 16:1). Revisions and translations have continued at regular intervals until the present, including a complete BCP with lections and the Psalter published in 1986 (672 pages, Griffiths 16:7).
Burmese is a major Indo-Tibetan language with its own script. It is the major language of Myanmar (Burma), and is also spoken in adjacent countries and in the Burmese ethnic diaspora. Anglican liturgical translations into other languages used in Myanmar/Burma include Chin/Khumi, Jingpho/Kachin, Karen (several dialects), and Shan.
Because of the use of Burmese script, the text is presented here as an Adobe Acrobat (PDF) file; link is below.

---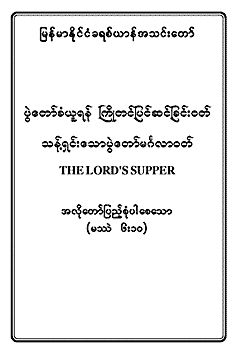 "Griffiths" refers to an entry in David Griffiths' Bibliography of the Book of Common Prayer.