Sinhala (or Sinhalese) is an Indo-Aryan language spoken by the great majority of people in Sri Lanka - about 16,000,000 people. As an Indo-Aryan language, it is more closely related to the languages of Northern India, e. g., Hindi/Urdu and Bengali, than to the Dravidian languages of neighboring South India, such as Telugu, Tamil, and Malayalam.
Sinhala is written in its own script, which consists of a basic set of 36 letters. It is similar to Hebrew in that the usual basic form of a letter stands for a consonant, with diacritical marks indicating a vowel following to form a syllable.
The Prayer Book presented here is written completely in Sinhala script, and was published and printed in Sri Lanka (then called Ceylon) in 1889. It is the third edition, the second (1831) being translated by the Revs. Samuel Lambrick (among the first Anglican missionaries in Ceylon) and James Selkirk, both of the C. M. S. The third edition was revised by Mr. Selkirk in 1839, this present text, being a moderate revision of that. It is listed in David Griffiths' Bibliography of the Book of Common Prayer as 157:7. The book contains xviii + 410 pages and measures 7.25 x 4.5".
Because this book uses Sinhala script, it is presented here as PDF images. It is presented in two parts: the services (including Collects for Sundays), and the Psalter.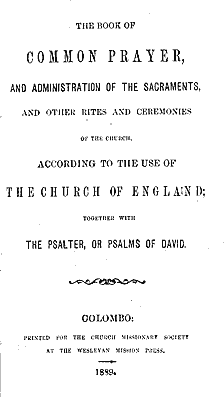 Table of Contents
A Table of Proper Lessons for Sundays
A Table of Proper Lessons and Psalms for Holy Days
The Calendar, with the Table of Lessons
The Order for Morning Prayer
The Order for Evening Prayer
Athanasian Creed
The Litany
Prayers and Thanksgivings, upon several occasions
The Collects, Epistles, and Gospels (note that only the Collects are printed out; Biblical texts are given as references only)
The Order of the Ministration of the Holy Communion
The Order of Public Baptism
The Order of Private Baptism
The Order of Baptism for those of Riper Years
The Catechism
The Order of Confirmation
The Form of Solemnization of Matrimony
The Order for the Visitation of the Sick
The Communion of the Sick
The Order for the Burial of the Dead
The Thanksgiving of Women after Child-birth
The Psalms of David

Download the services as PDF images (size=20MB)

The Psalter (20MB)