Nembe is the major dialect of the Southeast Ijo (or Ijaw) language, which in turn is part of the Ijoid family of Niger-Congo languages. It is also known as Nembe Brass, as in this book. It is spoken by about 70,000 people in the Niger Delta region of Nigeria.
As the Ijo people live near the coast, it is not surprising that Anglican missions were established there relatively early, initially by Bp. Samuel Ajay Crowther in 1867. Translations into Nembe were made in 1886 and 1910 by the Rev. Henry Proctor, a CMS missionary in Nigeria. These are described in Muss-Arnolt's The Book of Common Prayer among the Nations of the World. The translation presented here, made in 1957, is a revision of those. As may be seen by the Table of Contents below, it is essentially a complete translation of the 1662 BCP, with several additional services. My copy also includes a 1963 Ordinal (under copyright and so not included here) and a words-only Hymnal. This text is listed in David Griffiths' Bibliography of the Book of Common Prayer as 60:3; he lists it as being in the Brass dialect of the Ijo language.
At the time this book was printed, this language included several diacriticals which are not part of Unicode, and so cannot be expressed as text in HTML or any other medium. These incude vowels with lines under and the letters "b" and "d" with a greater-than sign under (see the title page at right). For this reason, we are presenting this book as PDF images. Links to these may be found below; bookmarks have been added to the PDF files for navigation.
---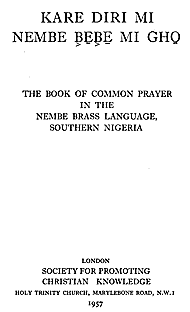 THE COMMON PRAYER BOOK
CONTENTS
The Order for Morning Prayer
The Order for Evening Prayer
The Creed of Saint Athanasius
The Litany
Prayers and Thanksgivings upon several occasions
The Collects, Epistles, and Gospels
The Order for the Administration of the Lord's Supper
The Ministration of Publick Baptism of Infants
The Ministration of Private Baptism of Infants
The Ministration of Baptism to such as are of riper years
The Catechism
The Order of Confirmation
The Form of Solemnization of Matrimony
The Order for the Visitation of the Sick
The Communion of the Sick
The Order for the Burial of the Dead
The Thanksgiving of Women after childbirth
Commination
Forms of Prayers to be used at Sea
Forms of Prayer with Thanksgiving to Almighty God, or Accession Service
The Articles of Religion
Appendix::
The Order of Admitting of Catechumens
The Burial of Catechumens
The Order for Harvest Service
The laying of a foundation of a School, Hospital, or Mission hall
The laying of the foundation stone of a Church
The Dedication of a Church
The Consecration of a Church
The Book of Common Prayer in Nembe Brass (all services listed above); size = 34MB
The Psalter; size = 11MB