King's Chapel was the oldest Anglican church in Boston, founded in 1686. At the time of the Revolution it was strongly Loyalist, and, when the British evacuated Boston in 1776, its clergy and most of the congregation went also. Gradually a congregation was rebuilt, largely of disaffected Congregationalists. At the close of the Revolution, King's Chapel thus was not "traditionally Anglican", and eventually was led by a lay reader, James Freeman, who came under the influence of Unitarianism and brought that theology into the church. King's Chapel nevertheless sought to be a part of the newly-formed Episcopal Church, as long as they could maintain their Unitarian theology and practices. However, the leadership of the Episcopal Church was not agreeable to this; Mr. Freeman was refused ordination first by Bp. Seabury and then by Bp. Provoost. So, King's Chapel left the Episcopal Chruch in 1787, and has remained an independent Unitarian congregation ever since.
The book presented here is the first edition of the Prayer Book currently used by King's Chapel. It was composed by Mr. Freeman and printed in Boston in 1785, based largely on a revision of the 1662 BCP done in London some years previous by Theophilus Lindsey and Samuel Clarke. The theology expressed in that book and in this one is traditional Socinian Unitarianism, called 'subordinationalism'. This denies the Trinity, holding that, while Jesus Christ and the Holy Spirit are indeed divine, they are subordinate to God. The book presented here reflects this belief; all references to the Trinity or to Trinitarian beliefs have been removed or altered. For example, the Athanasian Creed has been removed, and other phrases substituted for the Gloria Patri. Aside from this, the Sunday services at least follow the 1662 BCP fairly closely. A more detailed view into the church's theology at this time may be found in the Catechism, which is the work of Joseph Priestly, an English (later American) Unitarian minister, who is much better known as a chemist and co-discoverer of oxygen.
The book is presented here as Adobe PDF graphics, that is, as "PDF pictures" of the pages. There are bookmarks, and there is text "behind" the graphics, but this text has not been corrected and undoubtedly contains many errors. The Psalter is given separately so as to keep down the file size; it is essentially identical to that in the 1662 BCP.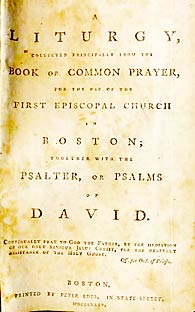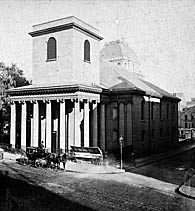 King's Chapel in the 1800's