Tamil is a Dravidian language spoken by approximately 66,000,000 people, primarily in South India (state of Tamil Nadu) and adjacent Sri Lanka. It has a very rich literary history, dating back over 2000 years.
Tamil is normally written in its own script, which consists of 31 letters which additionally may be combined to form over 200 syllables. Thus Tamil as written is syllabic, and not alphabetic as are European languages.
The Prayer Book presented here is written in Tamil script (with English titles), and was published and printed in India in 1885. It is not listed in David Griffiths' Bibliography of the Book of Common Prayer, but is quite similar to his 169:17, printed in 1895. That book (and presumably this one also) was translated by a committee headed by the Rev. J. L. (Joseph Light) Wyatt, and was likely based on previous translations by his father-in-law, Bp. Robert Caldwell, a well-known Tamil linguist. This translation includes nearly the entire Book of Common Prayer, as may be seen by the Table of Contents below. The book contains xxxiv + 522 + 8 pages and measures 8 x 5.25".
Because this book uses Tamil script, it is presented here as PDF images. It may be downloaded as a single file, or, since the single file download is fairly large, in sections.

Rev. JL Wyatt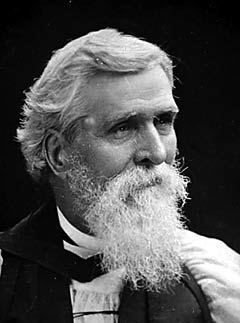 Bp. Robert Caldwell
Table of Contents
1 The Order how the Psalter is appointed to be read
2 The Order how the rest of the Holy Scripture is appointed to be read
3 A Table of Proper Lessons for Sundays
4 A Table of Proper Lessons and Psalms for Holy Days
5 The Calendar, with the Table of Lessons
6 Table of Moveable Feasts
7 The Order for Morning Prayer
8 The Order for Evening Prayer
9 The Creed of St. Athanasius
10 The Litany
11 Prayers and Thanksgivings, upon several occasions
12 The Collects, Epistles, and Gospels, to be used at the Ministration of the Holy Communion, throughout the Year
13 The Order of the Ministration of the Holy Communion
14 The Order of Public Baptism
15 The Order of Private Baptism
16 The Order of Baptism for those of Riper Years
17 The Catechism
18 The Order of Confirmation
19 The Form of Solemnization of Matrimony
20 The Order for the Visitation of the Sick
21 The Communion of the Sick
22 The Order for the Burial of the Dead
23 The Thanksgiving of Women after Child-birth
24 The Commination Service
25 Tho Psalms of David
26 The Form and Manner of Ordaining Priests and Deacons
27 The Articles of Religion
28 A Table of Kindred and Affinity
The Accession Service
Download the entire book as PDF images (size=44.5MB)
Collects, Epistles & Gospels (13.8MB)
The Psalter (12.5MB)
All Services (i. e., everything not Collects, Epistles & Gospels, or Psalms - 18.9MB)