The Book of Homilies (or sermons) is actually two books, the first one of twelve homilies published in 1547 during the reign of Edward VI, and the second 20 homilies in 1563 during the reign of Elizabeth I, with a 21st added in 1571. The sermons are a mixture of exhortations to sound Anglican doctrine and theology, and to good moral conduct.
The books were introduced for two reasons. First, parish priests saying the Latin Mass hardly ever gave sermons at all and so weren't used to this "Protestant innovation". These homilies were then sermons clergy could simply read out to their congregations without having to compose one themselves. And secondly, when sermons were given, the hierarchy wished to make sure that correct doctrine was being taught.
The authors of the Homilies are not named, but it is understood that Archbishop Thomas Cranmer wrote several of those in the first Book, and John Jewel, Bishop of Salisbury, wrote most of those in the second Book.
The Book of Homilies is mentioned in the Thirty-nine Articles (No. 35), but the sermons in it have not been commonly used in the Anglican Communion in many, many years. In the American Episcopal Church's version of the 39 Articles (from 1801), they are mentioned as needing revision, but that revision has, of course, never been made. To the best of our knowledge, there has been no official printing of them since the latter part of the 17th century. So the main use of them today is historical - giving insight into the doctrine, theology, and life of the English Church in the early part of the Reformation.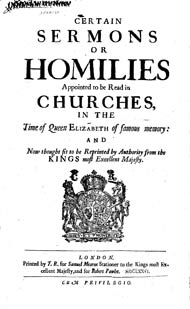 The text here is taken from a printing made in 1676 - one of the last made. There are two downloadable files (see below at right for links) as PDF graphics. The text is in blackletter ("Old English"), and for that reason there is no extractable text, as there would be far too many errors to make it useful. The pages are about 7-5/8" x 12-3/8", or 19 x 31cm. The bottom centimeter or so is cut off, but this contains no text. Bookmarks have been added for navigation.
There are currently two other sources for the Homilies online. A reprint from 1859 with an extensive introduction is available from the Internet Archive, and the text (presumably taken from the 1859 reprint) is also available as an HTML page.
Contents of the First Book of Homilies
I. A Fruitful Exhortation to the Reading of Holy Scripture.
II. Of the Misery of all Mankind.
III. Of the Salvation of all Mankind.
IV. Of the true and lively Faith.
V. Of Good Works.
VI. Of Christian Love and Charity.
VII. Against Swearing and Perjury.
VIII. Of the Declining from God.
IX. An Exhortation against the Fear of Death.
X. An Exhortation to Obedience.
XL Against Whoredom and Adultery.
XII. Against Strife and Contention.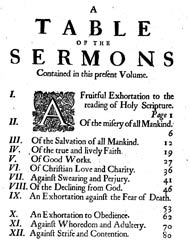 Download the First Book of Homilies (size=24MB)
Contents of the Second Book of Homilies
I. Of the right use of the Church.
II. Against peril of Idolatry.
III. For Repairing and keeping Clean the Church.
IV. Of Good Works. And first of Fasting.
V. Against Gluttony and Drunkenness.
VI. Against excess of Apparel.
VII. An Homily of Prayer.
VIII. Of the Place and Time of Prayer.
IX. Of Common-Prayer and Sacraments.
X. An Information for them which take offence at certain places
of holy Scripture.
XI. Of Alms-deeds.
XII. Of the Nativity.
XIII. Of the Passion, for Good-Friday.
XIV. Of the Resurrection, for Easter-day.
XV. Of the worthy receiving of the Sacrament.
XVI. An Homily concerning the coming down of the Holy Ghost, for Whitsunday.
XVII. An Homily for Rogation Week.
XVIII. Of the state of Matrimony.
XIX. Against Idleness.
XX. Of Repentance and true Reconciliation unto God.
XXI. An Homily against Disobedience and wilful Rebellion.
A Thanksgiving for the Suppression of the last Rebellion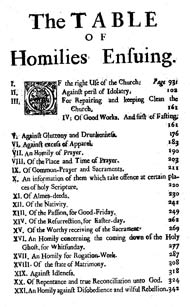 Download the Second Book of Homilies (size=78MB)