The English Rite: being a synopsis of the sources and revisions of the Book of Common Prayer, by Frank Edward Brughtman, was published in 1915, and consists primarily of a four-column comparison of three editions of the Church of England's Book of Common Prayer (1549, 1552 & 1662) and any source material, usually in Latin. It also includes a 225-page introduction giving a history of the Book of Common Prayer (BCP) and its sources. It is in two volumes, totalling over 1000 pages, the first volume covering the Introduction and the BCP up to about the first half of the Collects, Epistles and Gospels, and the second volume containing the rest.
TABLE OF CONTENTS
Volume 1:
Explanation of Types and Signs Used in the Synopsis
Introduction
Addenda and Corrigenda
A Synopsis of the Sources and Revisions of the Book of Common Prayer
Front matter
Mattins (Morning Prayer)
Evensong (Evening Prayer)
Quicumque vult (Athanasian Creed)
Litany
Prayers & Thanksgivings
Collects, Epistles & Gospels (to Tuesday in Whitsunweek, or after Pentecost)
Volume 2:
Collects, Epistles & Gospels (from Trinity Sunday)
Holy Communion
Public Baptism
Private Baptism
Baptism of Those of Riper Years
Catechism & Confirmation
Matrimony
Visitation & Communion of the Sick
Burial of the Dead
Purification (Churching) of Women
A Commination
Ordinal:
Making of Deacons
Ordering of Priests
Consecrating of Bishops
Appendix: Bidding of the Bedes & Rogation
The two volumes are presented as two files of PDF graphics which may be downloaded using the links at right. There is extractable text, but this text has not been proofread and undoubtedly contains errors. The Synopsis of Sources & Revisions is presented as double pages, so that the four columns may be easily compared.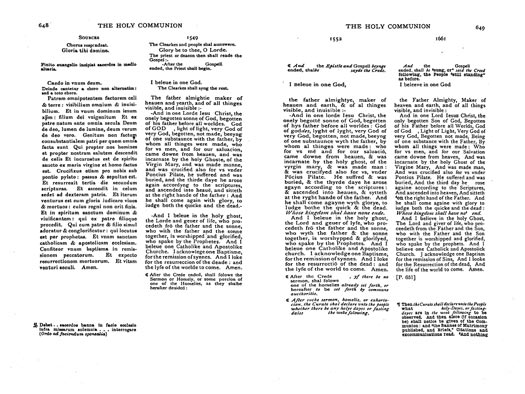 A typical page (much reduced in size)