David Griffiths' Bibliography of the Book of Common Prayer lists two printings of the U. S. 1789 Book of Common Prayer in Italian: one printed in Florence, Italy, in 1868, and the other in New York in 1874. The text presented here is neither of those, but was published by the otherwise unknown Chiaromontana Publishing Co. in 1879, likely for use by Italian immigrants of that era. Unlike most Prayer Books of the time, it was not certified by a diocesan Bishop, and contains only the commonly used services, plus the collects (Bible readings are by reference only), as may be seen by the Table of Contents below.
The book is a paperback of 140 pages and is presented here as PDF graphics. There is text "behind" the graphics, but that text has not been checked and undoubtedly contains errors. Bookmarks are present for ease of navigation.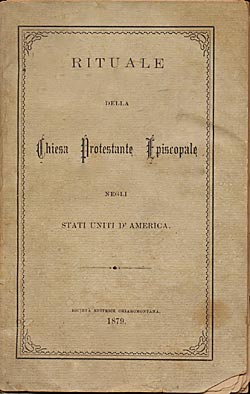 INDICE.
Ordine della lettura del Saltero
The Order how the Psalter is to be read
Ordine della lettura delle altre Scritture Sante
The Order how the rest of Holy Scripture is to be read
Tavola di lezioni per le Domeniche
Table of Lessons for Sundays
Tavola di lezioni per le Feste
Table of Lessons for Holy Days
Tavola delle Feste e dei Digiuni
Tables & Rules for Moveable & Immoveable Feasts
Utlizio Quotidiano-Mattutino
Morning Prayer
-Vespro
Evening Prayer
Litanie, ossia Supplicazioni Generali
Litany, or General Supplication
Orazioni in diverse occasioni
Prayers upon several occasions
Itendimenti di grazie in diverse occasioni
Thanksgivings upon several occasions
Collette, Epistole, e Vangeli per tutto l'anno
Collects, Epistles & Gospels to be used throughout the Year
Uffizio della Santa Comunione
Holy Communion
Read or download the 1789 Book of Common Prayer in Italian (size=26MB).