---
Tea for 2,000
by Bob Williams

The Queen and the Duke of Edinburgh welcomed the Archbishop of Canterbury and Lambeth Conference participants for a garden party yesterday afternoon at Buckingham Palace.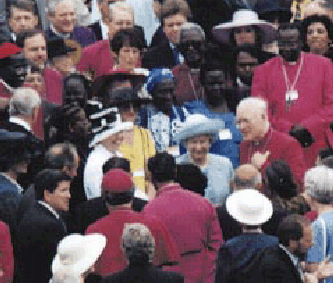 The Duke of York also joined in welcoming the bishops of the Anglican Communion, their spouses, and other church colleagues. After receiving the Archbishop and Eileen Carey, the Queen greeted the Primus of the Scottish Episcopal Church, and then officials from Lambeth Palace and the Lambeth Conference. Thereafter the Archbishop introduced to the Queen various bishops and spouses who lined a path from the Palace steps to the Royal Tea Tent, where a variety of leaders from around the Communion were assembled.

A larger tent across the lawn accommodated the majority of the 2,000 guests and provided shelter during light rains. Guests took tea and toured the Palace gardens as the Bands of the Coldstream Guards and the Queen's Division (Normandy) provided music alternately throughout the afternoon. Yeoman of the Guard held ground as the national anthem announced the arrival of the Queen and other members of the Royal Family at 4pm. Festivities concluded just before 6pm, with guests proceeding on to the Festival Pier for a cruise of the Thames.

Guests had traveled in 49 coaches from Canterbury for the London Day, which opened with lunch hosted at Lambeth Palace by Dr and Mrs Carey.