---
What's cooking?
An avalanche of food
by Carol Barnwell

A career in the Royal Navy and eight years aboard the Royal Yacht, Britannia, have put Jeff Stoddard in good stead to command the kitchens for the Lambeth Conference.

``We began planning menus last September,'' says the cricket enthusiast and University of Kent's executive chef. ``After checking with dioceses around the world I started scouring book-shelves for African and other ethnic recipes.'' Once the menus were finalised, Mr Stoddard worked with suppliers to procure more difficult-to-find ingredients such as plantains, a banana-like side dish.

At least one ethnic dish is prepared daily and there's always a vegetarian alternative available. Mr Stoddard and his staff of 30 chefs also see to special menu requests.

Oversight of the Conference appetites means serving at Darwin, Eliot and Rutherford colleges, running a portable kitchen at the HomeTent and delivering breakfast to the 1,000 Conference participants living in Parkwood. ``That took several lorries,'' he says of the 1,400kg of cornflakes, 20,000 individual packages of Wheatabix, 200 750g jars of coffee and 200 bottles of Fairy cleaning liquid seen to by his suppliers.

Mr Stoddard reviews menus and checks supplies daily, altering details and alleviating queues where he can.``We've put sandwiches and salads in the bars at the colleges,'' he says, ``because some people may be happier with just a pint and a roll.'' Ordering of food is done almost daily. Before the Conference is finished, kitchen staff will have served 609 cases of chips and roasted potatoes, 1,154 cases of pre-sliced gateaux and cheesecake, 2,264 pounds of gammon steaks, 22,680 containers of yoghurt and 15,750 eggs.

The normal university staff of 250 helpers has been doubled for the Conference. Mr Stoddard is ably assisted by chefs Sylvia Hughes at Rutherford, David Jordan at Eliot and Senior Chef Michael Rose at Darwin. Seven hundred and fifty breakfasts are served in the colleges, 600 lunches at Eliot and Rutherford and 400 in the Home Tent and at Darwin College. Eighteen hundred dinners are served daily across campus.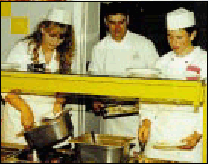 ``We're here to do a job and are flexible in order to respond to people's likes and needs,'' Mr Stoddart says. ``This is the biggest thing here in 10 years and we are working to please everyone.'' Menus for the second week will not repeat but the third week will be a combination of some of the more popular dishes. The grilled trout and roast beef have been favourites so far.

``Our biggest headache was having to change meat suppliers two weeks before the Conference,'' Mr Stoddard says. He set up Origins bar and bistro in Darwin College while planning the Conference catering. By the end of the Conference, Mr Stoddard will have seen to 112,350 meals. And after August 10? He says he plans ``to have a couple of pints and take a few days' rest.''

Back to front page of this issue