---
Three conferences give French correspondent unique viewpoint
by Carol Barnwell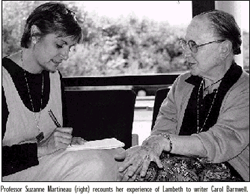 The third time around gives a French reporter and recipient of the Cross of St Augustine a unique perspective on the Lambeth Conference.The first female interpreter and assistant at Vatican II, Professor Suzanne Martineau, 70, peers over her glasses, laughing softly. ``I was a strange animal in Rome, but Lambeth has always felt much freer,'' she says. A correspondent for French broadcasters and the ecumenical publication, Unite de Christiens (Christian Unity), Professor Martineau recollects heated debate over women's ordination and the death of a pope.
Pope John Paul I died, in fact, while the Lambeth Conference was in session in 1978, the first year Professor Martineau joined the Anglican bishops in attendance. She recalls that Roman Catholic observers gathered in a home to celebrate a requiem Eucharist. ``I was so moved when most of the Anglican bishops attended with their wives,'' Professor Martineau said. ``This (expression of support) was new to me.''
Speaking in a July 19 interview on the University of Kent campus, Professor Martineau said the 1978 Conference also brought for the first time discussions of the fact that women had been ordained as priests. She muses on her memories of those conversations, absently coaxing a loose tendril back into her bun.
During her second Conference in 1988, Professor Martineau remembers the increased tension surrounding women's ordination. There were times when cutting off the microphone was the only way to curb filibustering speakers, she says, admitting debate was difficult. ``When we left at the beginning of August, I said,`before Christmas we will have a woman bishop' and in September Barbara Harris was elected!''
Developing countries occupy Professor Martineau's attention at this year's Conference. ``Yesterday I was talking with a French-speaking bishop (most of them are from Africa), and their priority is debt first of all,'' she says. Lack of indigenous leaders is also a problem for some. Ninety percent of Rwandans are supposed to be Christian, and yet some have started a vicious civil war. ``Where is their Christianity?'' the region's bishop asks her. Baptising sometimes 2,000 people in a short time-span, he is frustrated with too few priests to follow them on their Christian journey.
Professor Martineau points also to the growth of Anglicanism in the Congo, an area that has never been an English colony. ``Where did it come from?'' she asks the bishop, who replies that a small community on the border has fostered the Church's growth. And now ``there are bishops here from Japan!'' she marvels.
From her vantage point, Professor Martineau says her 30 years of observation affirm that the Anglican Communion's strength rests in its freedom and respect for different cultures. ``It is important to have a view of non-European provinces,'' she believes, advising that Lambeth is ``neither a synod nor a council but a conference---a place where there are free discussions, and the resolutions are not compulsory.'' Educated in England and Switzerland, Professor Martineau retired seven years ago after teaching sociology for 25 years. A Roman Catholic, she has family in England and the Anglican Church. She received the Cross of St Augustine, ``a distinction for nonAnglican people who work for unity of churches,'' in 1990 from the Archbishop of Canterbury at that time, Dr Robert Runcie, now Lord Runcie. ``I was tricked!'' she says of the presentation. ``When I entered the room at Lambeth Palace, I saw quite a lot of friends and family but I just didn't catch on. I had been invited to what I thought was a farewell party for a colleague. The Archbishop said: `I'm so happy to greet you,' and I said, `Oh, you remember me?' He just smiled.''
Back to front page of this issue