Spirit of Dr Ramsey lives on at Kent
Robin Gill serves campus as professor of modern theology
by Margaret Rodgers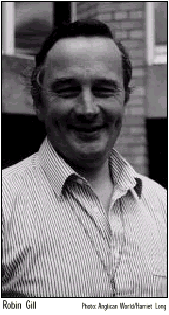 When Michael Ramsey died, Archbishop Robert Runcie was determined there should be a substantial memorial to his muchloved predecessor. Thought of a building, monument or stained-glass window was rejected out of hand. The decision was to found a chair of theology as a fitting memorial to the scholartheologian. The appeal was quickly approved and supported throughout the Anglican Communion for Dr Ramsey had been the first Archbishop of Canterbury to travel widely to provinces.
The Michael Ramsey Chair of Modern Theology was established at the University of Kent in 1991, and the foundation professor, Robin Gill, was interviewed for the position the day after Dr George Carey was enthroned as Archbishop of Canterbury. A theologian and ethicist, Professor Gill previously held a chair at Newcastle University, and prior to that taught for 16 years in Edinburgh. As Ramsey Professor of Modern Theology, he is also an adviser to the Archbishop of Canterbury in theology and ethics, medical ethics particularly. He chairs Dr Carey's medical ethics advisory group. Theology is a small department of the University of Kent and plays an important part in inter-disciplinary work at the university. ``The medical and scientific faculties recognise the contribution of theology to the ethical issues and dilemmas encountered in their research,'' Professor Gill says. ``They are aware that answers are required from other than scientific areas, and they see theology as relevant to their enquiry.''
He teaches courses in Christian ethics and in science and theology for the religious studies degree. Most students come to the department to study at post-graduate level. There is an MA in Applied Theology, and in the past six years students have come from Australia, New Zealand, Hong Kong, South Africa, India and Korea. Professor Gill explains that many are sponsored by their provinces, and he would welcome enquiries from bishops while they are at Lambeth.
``We can and should bring serious, intelligent reflection to our faith,'' Professor Gill says.``We must not be closed to new knowledge but address it, in the spirit of Michael Ramsey. ``We encourage this university to be seen as a place where younger priests who are going to make a theological contribution to their province can come and study. ``This Lambeth Conference underlines yet again the importance of careful and sustained theological study.'' Professor Gill is expected to teach for two terms each year in the university, and in the summer term to travel and teach round the Anglican Communion. In recent years he has visited South Africa, New Zealand, Korea, Japan, Hong Kong and Australia, and he goes to the United States at least once every year.
Professor Gill is married to Jenny, a doctor who is a regional director of primary care. Their home in Canterbury was built in 1570, in Tudor times, and it has a beautiful rose and herb garden that they care for themselves. Their house was originally the servants' home for the big house in St Dunstan's Street, where Thomas Tallis is thought to have lived. It is close to St Dunstan's Church, where the head of Sir Thomas More is buried.

---

Back to front page of this issue